What is the Center for Social Innovation Initiatives (CSI)?
---
---
Our society is faced with many problems today, including a declining birth rate and aging population, food and health issues, child poverty, and environmental problems. To deal with these problems will require effective, sustainable, innovative mechanisms (social innovation) that work not only through public institutions but also through corporate activities, etc.

Since the basic planning stage, the University of Nagano has been focused on solving social problems through such means as cultivation of an entrepreneurial mindset to tackle new problems and academic activities.

We bring together diverse individuals and intellectual resources from within and without the university to develop and support human resources that will pursue social innovation. Through those activities, we are creating an ecosystem in which ambitious individuals can take up the challenge of solving social problems, increasing the number of companies and jobs that are appealing to young people one at a time and contributing to the development of a sustainable world.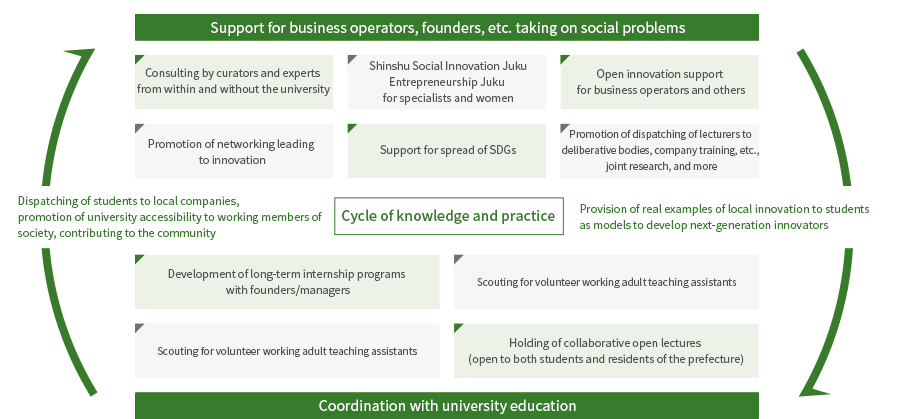 Professor and Head of Entrepreneurship Course, Department of Global Management Studies, Faculty of Global Management Studies
Full-time Chief Curator of CSI
Innovation Curator, Social Innovation Laboratory Kyoto
Representative, Office SPES
Community Coordinators (2020 academic year)
Community coordinators are tasked with looking after business operators and founders, living in communities throughout the prefecture to connect them to CSI.
As of March 31, 2020 (random order/honorifics omitted)
These social entrepreneurs and specialists from within and without the prefecture provide support to local business operators and founders.
Representative, first-class registered architect office Akiyama Tachibana (Yokohama City and Kyoto City)
Mother and child residential support/architecture
Special Visiting Associate Professor, Keio University Graduate School of Media and Governance (Kanagawa)
Founder, Social Venture Partners Tokyo (SVP Tokyo)
Joint Representative, INNO-Lab International (Nagano Prefecture)
Senior Staff, Keio Research Institute at SFC
Managing Director, NPO Ubdobe (Tokyo)
Medical welfare entertainment
Founder and Director, NPO Terra Renaissance (Kyoto)
Support for victims of overseas conflict
Representative Director, Carepro, Inc. (Tokyo)
Creation of innovative health care services
President and Chairman, AMITA HOLDINGS CO., LTD.
Futuristic design for a sustainable society
President and Representative Director, Uprising YK (Utsunomiya City)
Hiring of "difficult-to-employ" persons
Joint Representative, RELEASE;
Practical business classes, regional revitalization
Representative Director, FUKUICHI Co., Ltd. (Osaka City)
Fair trade, innovation curator
President and Representative Director, fascinate Co., Ltd. (Yokohama City)
Community design support for business community designers and social entrepreneurs
Representative, Tax Accountant and SME Consultant, Tanaka Management Accounting Firm (Osaka City)
Innovation Coordinator, Social Innovation Laboratory Kyoto (SILK)

Business founding and succession support, back office IT development and productivity enhancement
Director, YOUTURN Inc. (Fukuoka City and Tokyo)
Management consulting for local SMEs and venture businesses
Director, NPO MIRATUKU, Innovation Designer, Innovation Design Office, RIKEN (Kyoto City and Tokyo)
Micro-surveys, etc. for development of strategies and businesses anticipating future trends and future co-creation
Shingo Potier de la Morandière
Co-founder & Director, Impact HUB Tokyo (Tokyo and Nagano Prefecture)
Community design for creating social impact
Representative, Maeda Nobuhiro & Associates (Kyoto City)
Product manager, Chief Editor for Kyoto Social Product Map
Representative Director, enmono Inc. (Kanagawa)
Leader, X United Branding & Communication Center, Uhuru Corporation
IoT introduction support, collective impact through hackathons, etc., development of IOT human resources
General Manager, Business Front Dept., KYUSHU ELECTRIC POWER CO., INC. (Fukuoka)
Representative, Link Community Design (Kyoto City)
Representative, re:terra (Tokyo)
Support for female entrepreneurs