---

The entire campus is a space for learning.
The vast school building is designed to have many communication spaces, creating a new learning environment to generate a wide range of interaction. Our basic concept is a three-story building that blends into the surrounding environment, a learning environment, and safety in the event of an evacuation. Some parts also have two or four floors.
---
The school has a range of different academic facilities.
The Media Plaza adjoins the Global Center and serves a leading role in global learning, including language studies. There are also booths especially for language learning using Skype.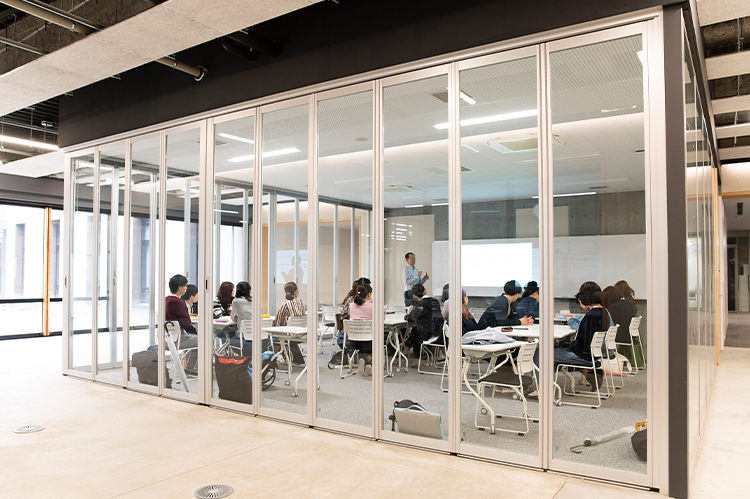 The glass-walled lecture rooms have spacious atmospheres for classes in which students participate actively.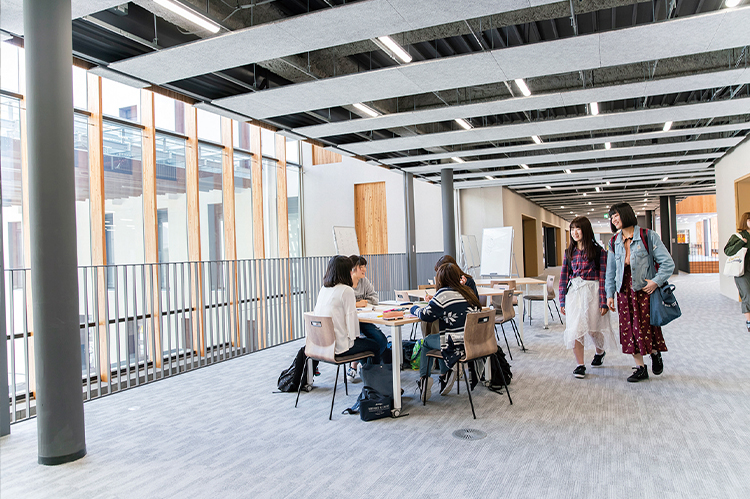 These spaces allow students to study anywhere based on our concept of active learning.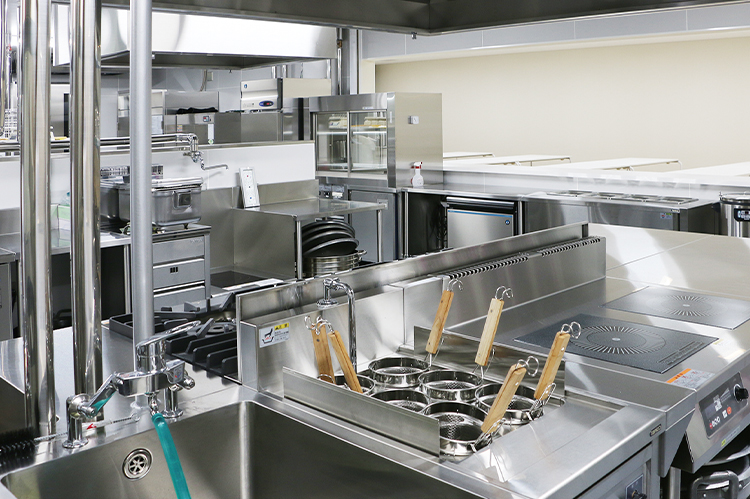 The University of Nagano focuses on practical training, so we offer a wide range of practice rooms including two cooking labs, a nutrition education lab, a clinical nutrition lab, etc.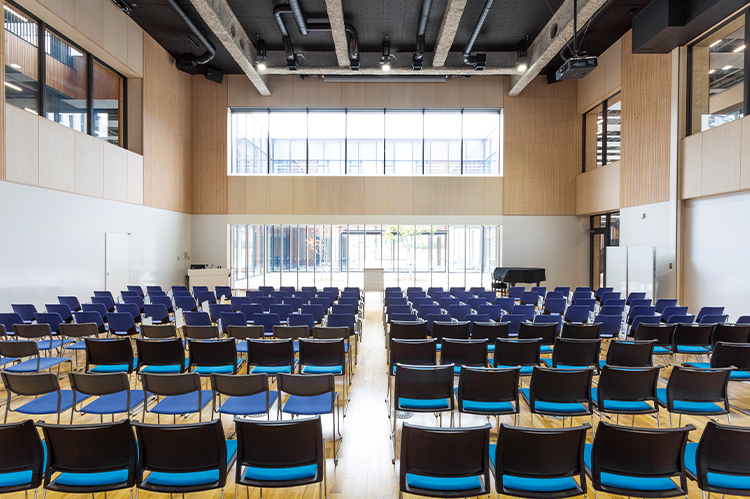 This room has two large screens with projectors, and can be used for student events and academic presentations. The walls are covered with whiteboards so you can use whiteboard markers to write down what you are discussing, or attach labels and papers. This space is on the inner courtyard, were you can enjoy experiencing the four seasons.
More than 100,000 books to help with your studies and research
Most of the books are available on open stacks, so you can directly take them off the shelves and look at them yourself. The library employees provide support, including help using the book search system, database search methods, and finding the materials you need. There are also spaces for individual and group studies using computers.
The library is open to both students and the general public.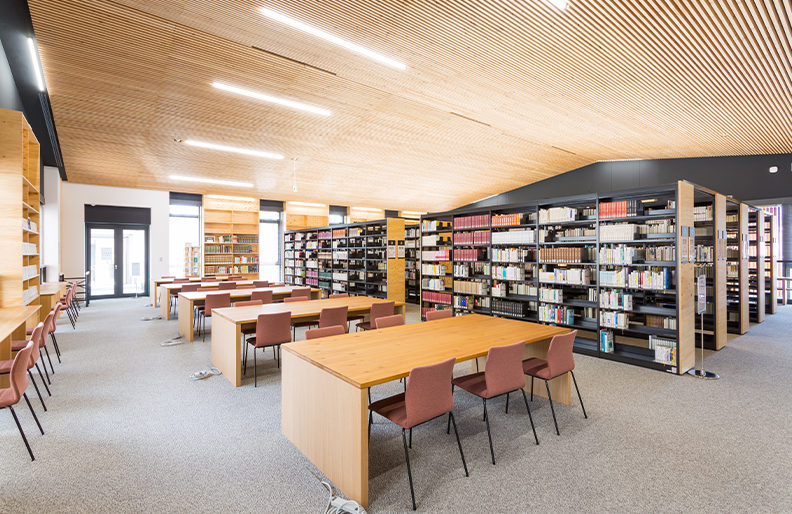 Weekdays: 8:30 a.m. – 8:00 p.m.
Saturday: 8:30 a.m. – 5:00 p.m.
During the book inspection period, Sunday, public holidays, year-end/New Year holidays
A student ID is required to borrow materials from the library. Bring the items you want to borrow and your student ID to the counter.
Please visit the library website for detailed information about using the library.
The old Nagano Prefectural College library is connected to the new library by a passage.
The new library is made from materials produced in the prefecture, including the ceilings and walls. You can relax and read books in this warm space with a quiet, academic atmosphere.
There are also booths for group studying, etc.
---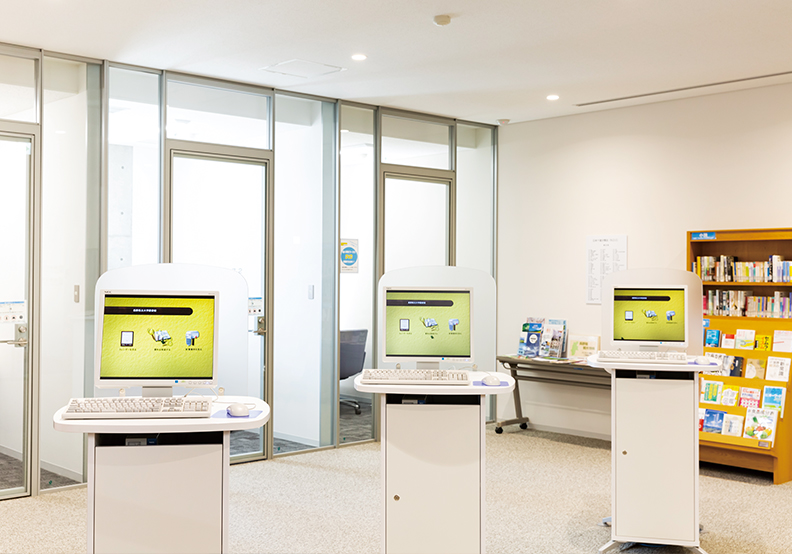 You can quickly search for the books you need, including whether they are in the library's collection and available for borrowing.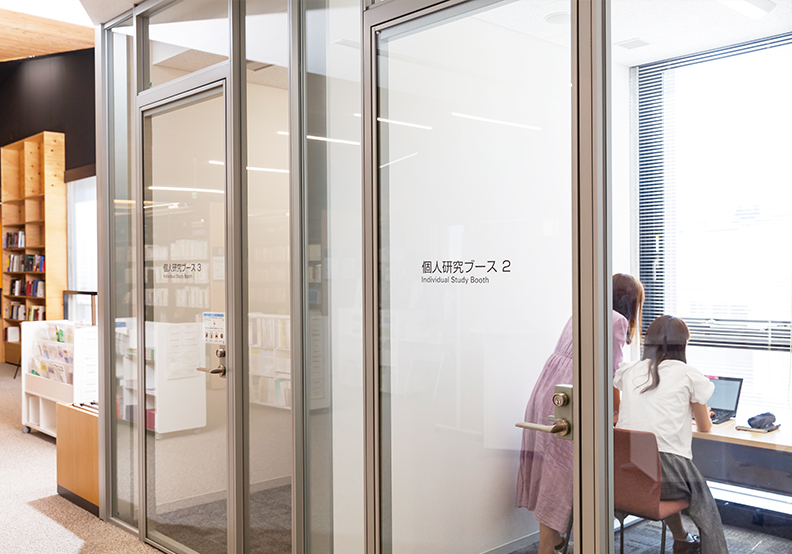 These spaces for focusing on studying and research are popular with students.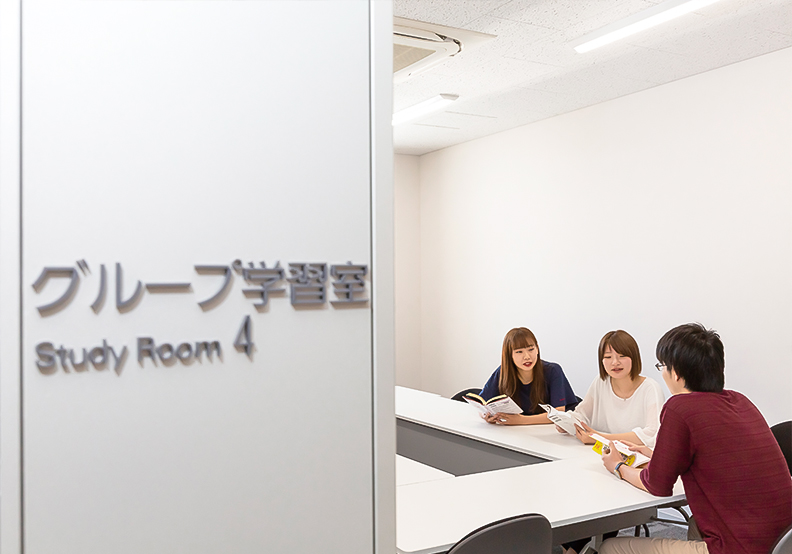 These private rooms, where you can focus more deeply and absorb knowledge, can also be used for seminar activities and groupwork.
Extensive reading area (by level)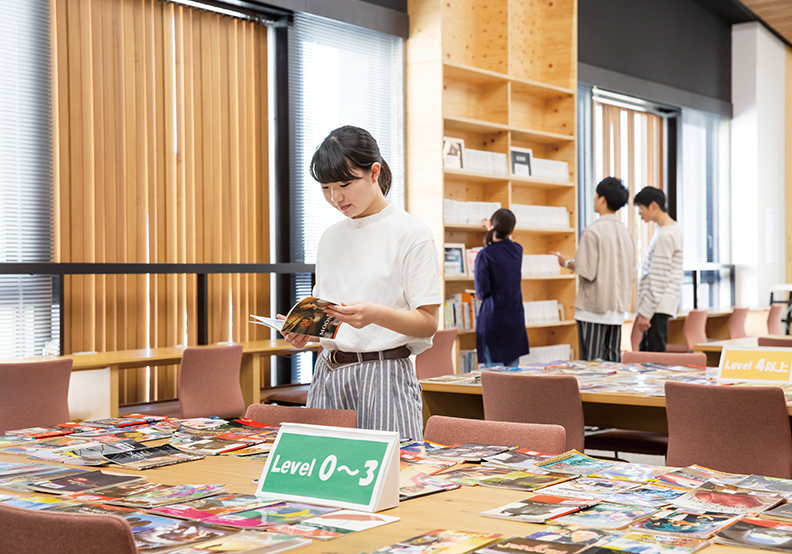 Reading lots of easy-to-comprehend books in foreign languages is one way to improve your language skills.
The large University Cafeteria, which seats around 300 people at one time, serves dishes made with many ingredients grown in the prefecture.
There are counter seats (with power outlets) on the terrace side that are comfortable even when visiting on your own.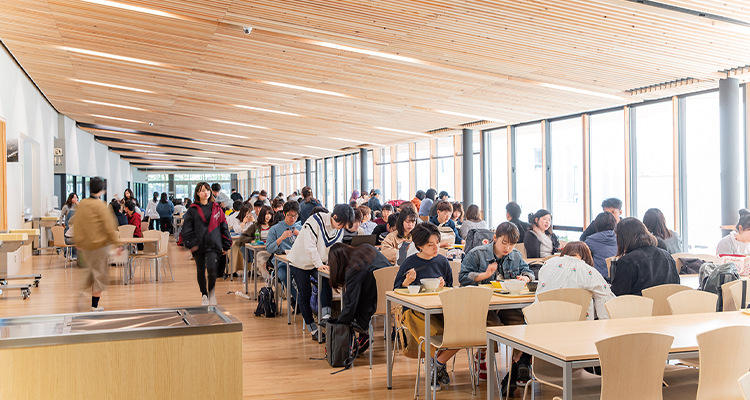 The cafeteria is open to everyone.
Weekdays: 11:30 a.m. – 1:30 p.m. (*Open later hours as a cafe)
First, buy a meal ticket from the machine.
The basic payment method is Edy (which is loaded on student IDs), but you can also pay with cash.
The terrace has a wooden deck.
Enjoy eating and relaxing in the fresh air on sunny days.

---
This space for local children and parents is adjacent to the Department of Child Development and Education classrooms.
There is also a water play space at the north entrance that can be enjoyed during the summer.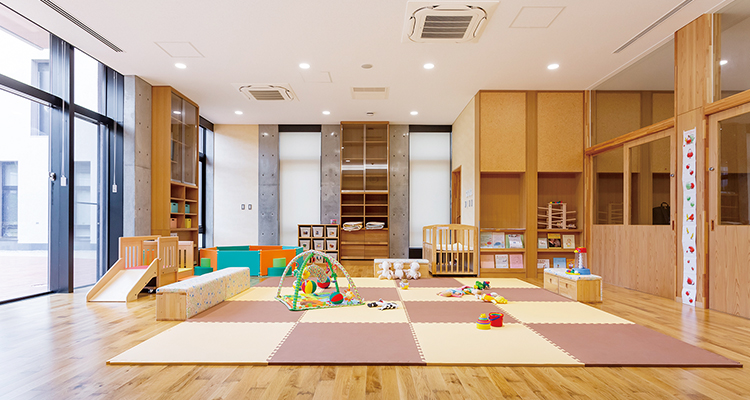 Hours/how to use this space
We plan to take advance applications for usage methods and times by children (before kindergarten/preschool age) and their parents/guardians according to the Department of Child Development and Education curriculum
Open space/picture book space
The open space is only available for events. The picture book space can also be used for purposes other than events, only when accompanied by a student or teacher, with a prior reservation.
If you would like to use this space for a non-event purpose, please fill in
the online form
.
Contact us using
this email address
for questions.
Please refer to the Terms of Use for details.
The entire space features the warmth of wood, including a heated floor and wooden bookshelves.
Children can play freely in this space, which includes a kids' restroom.
---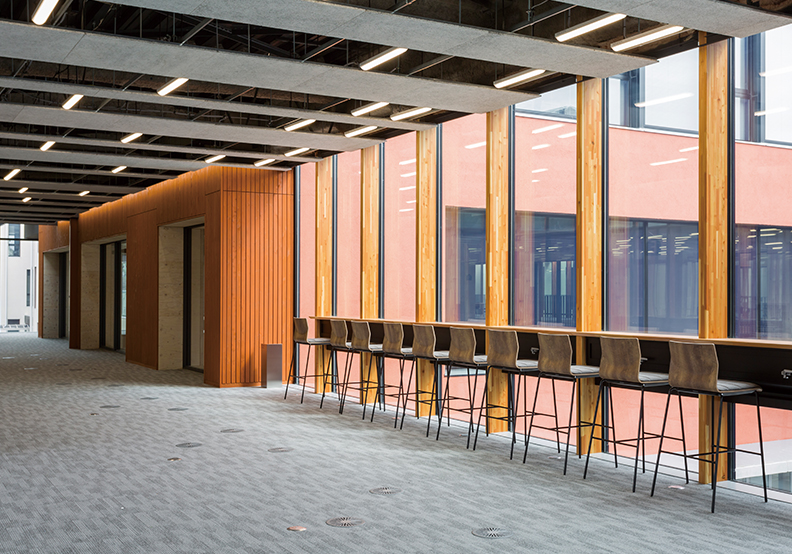 The hallway connecting the classrooms, lecture rooms, training rooms, and other rooms is a common area where lectures, presentations, debates, and group studying take place. It's the perfect place to hold discussions while drinking tea. The teachers' seminar rooms have glass walls and are designed to be easy to enter.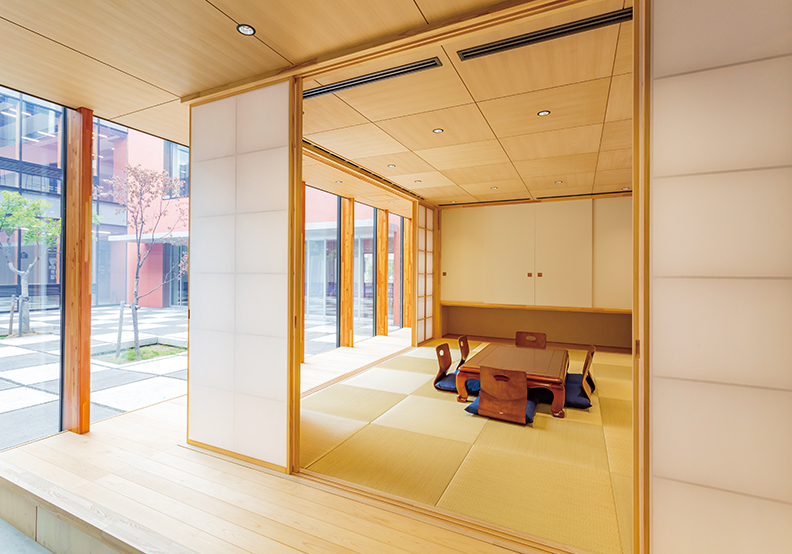 This room can be used for the tea ceremony and welcoming visitors from abroad.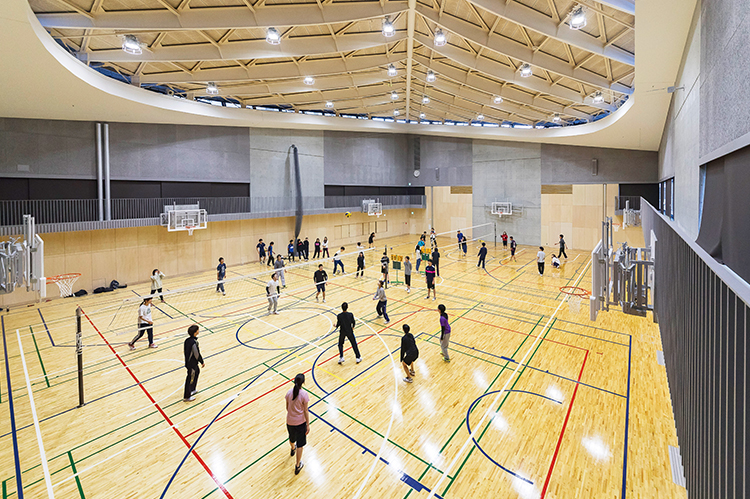 The campus is carefully designed. For instance, the roof of the Arena (gym) features a motif of young, verdant apple leaves (apples are a specialty product from Nagano Prefecture).
A sustainable campus based on Shinshu's climate and natural features
The campus uses CO2-saving and natural energy technologies.
* Selected as a Sustainable Building, Etc. Leading Project (under the jurisdiction of the Ministry of Land, Infrastructure, Transport and Tourism).