---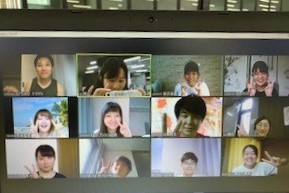 The 2nd "Online Meeting" was held from 12:25 to 13:00 on Wednesday 15th July. The theme is
" Let's learn Japanese Rules and Manners!"
. When we live in Japan, there are many things that we do not notice easily, but there are various Rules and Manners such as our behavior habits and our eating style.
 The students were enjoying their lively communication. We also got a lot of interesting opinions from international students about Japanese customs different from those of their home countries and what they think about Japanese Rules and Manners.
 This time we just divided into teams and shared opinions, but on Wednesday 22th July, we will share what kind of opinions we received!