Exchange event with Finnish delegation 〈Closed event〉
---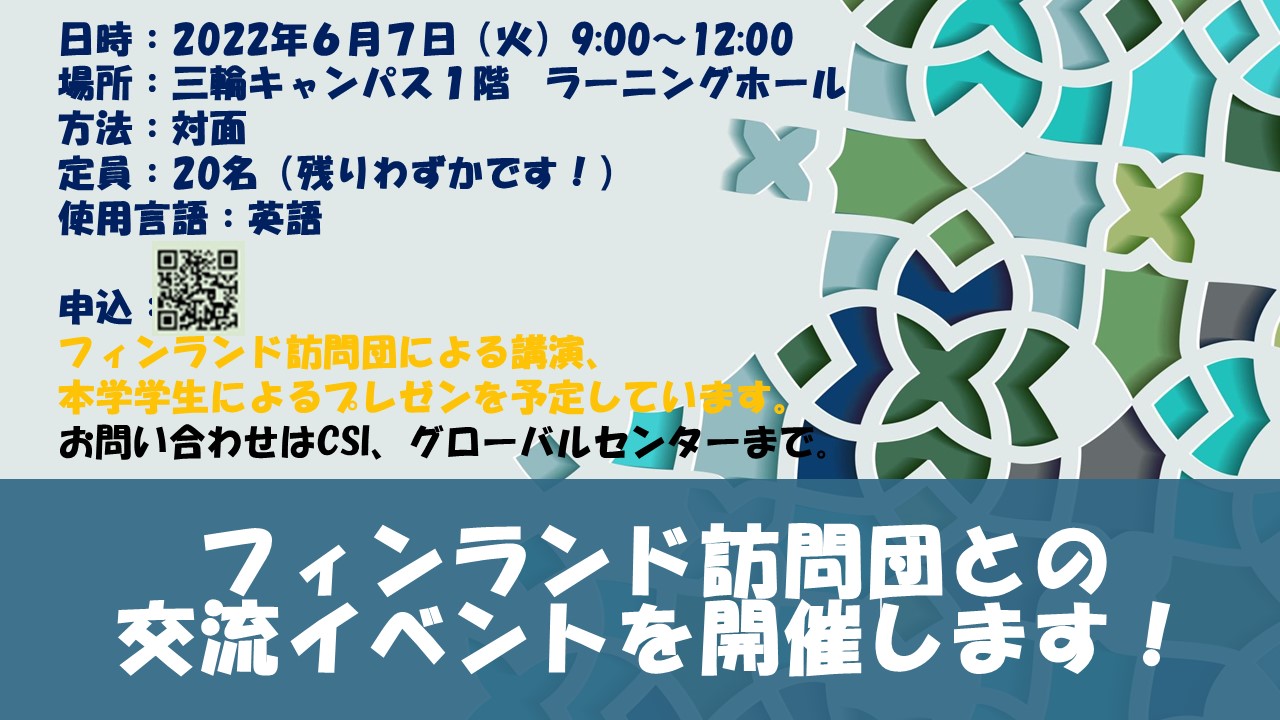 Based on the Memorandum that Nagano Prefecture Forest Policy Division has concluded with North Karelia Province
of Finland, the Prefectural Environmental Policy Division will serve as an intermediary and will invite Finnish
universities (Karelia University of Applied Chemistry, University of Eastern Finland), government officials, and members of an entrepreneurship support organization (https://www.businessjoensuu.fi/en/) will come to Nagano Prefecture and visit our university on the morning of June 7. They will give presentations on multiculturalism, environment, forestry,
sustainable society, education, etc., and students in our university will also give presentations for mutual exchange.
Finland's traditional industries, such as forestry and fishery, are highly rewarding and have attracted attention in Japan for their strong employment potential, but the country's advanced education is also the foundation of this strong
employment potential.
〈
Date and Time〉Tuesday, June 7, 2022, 9:00-12:00 (time may vary)
〈Place〉Learning Hall, 1st floor, Miwa Campus
〈Method〉Face-to-face (no zoom streaming, etc.)
〈Capacity〉20 people
〈Language〉English
〈Application〉 https://forms.office.com/r/iKWtZH4kDW (Microsoft Forms application screen will be displayed)
        Closed event for the university member only.
〈Application deadline〉 June 3, 17:00
             Applications will be closed when the maximum number of participants is reached before
            the application deadline.
《Program》 (tentative. All presentations will be given in English)
・Overview of the University
・Presentation by a person from Finland
・Presentations by some students in our university