Open lectures (collaborative open lectures)
---

The Nagano Future Conference x University of Nagano Collaborative Open Lectures are co-creation-type learning opportunities for students to think about the future together with the community. We collaborate with members of the Nagano Future Conference, which provides learning opportunities mainly to young working members of society, as part of efforts to fulfill our goals of being a university that is open to the community, and one that moves forward together with local community members. In addition to the seminars, there is time to speak with other participants and even guests in some cases. This format is also utilized in Manager Talks, in which pioneering corporate researchers are invited from outside the prefecture to speak on the future as seen at real management sites.
---
List of collaborative open lectures
Date

Title

May 13

Designing the Nagano Future Conference
~Brainstorming the Places We Want to Create and Conversations We Want to Have~

July 3

The Potential of Locally-based Educational Projects

August 2

Thinking About the Links Between Shinshu and Asia

August 7

Using Power of Connection in Your Life
Participatory Workshop to Experience Five Journeys to Practicing Adult Developmental Theory

October 7

Introduction to Student Groups and NPOs that Make Society More Interesting

December 3

**Urgent**
What Can we Do Now, 50 Days After the Typhoon?

December 13

The First Step is Imitation?
~Things I've Realized in Four Years of Programs for High School Students in Nagano~

February 21

Teal Organizations: Building Organizations That Are Not Top-down
Comment from a student who has helped operate these lectures
I attended my first lecture in 2018, and have been involved in their planning and operation since 2019.
During this process, I've learned and experienced many things in each study session.
In particular, I was inspired to change my actions by the lecture after Typhoon Hagibis, which caused major damage throughout Nagano Prefecture. I helped clean up mud right after the disaster, but I could no longer do so after the university's special exception period for volunteer activities ended. However, the guest, Mr. Hatakoshi , said, "How do you want to help the affected areas?" These words made me stop and think about what I could do right then. I took part in the High School and University Student Disaster Information Sharing Conference, which considers what can be done based on the situations in the affected areas and volunteering status. I also held an ideathon for friends and others to come up with apple packing and selling ideas. Today I am providing support including the online reservation system for Shinshu Base, where students from inside and outside the prefecture can say while helping in the disaster-struck areas.
To me, the Nagano Future Conference is a place to create my next actions and the near future by learning from the guest speakers and through more broad, profound learning with participants. I hope to keep learning together with people at the university and in the region, and to think about how to build Nagano's future.
Shiki Kawamukai, 3rd year, Faculty of Global Management Studies
University of Nagano students and local residents attend Manager Talk events that discuss our future via business.
The invited guests include managers who are working in sustainable administration and with a focus on the creation of new values. We strive to make these talks into opportunities for attendees to broaden their thinking about the future.
The first guest was Tetsuya Abe, president of IKEUCHI ORGANIC Co., Ltd. (based in Imabari City, Ehime Prefecture), a company that is famous for its SDG management.
Abe gave a sincere talk about the worthiness and significance of sustainable management.
Abe feels a strong sense of danger regarding the many unsustainable business styles in society. He lent courage to many attendees by saying, "There is a network of top managers who share this sense of crisis and are working together."
This talk provided a great deal of inspiration to University of Nagano students and local residents.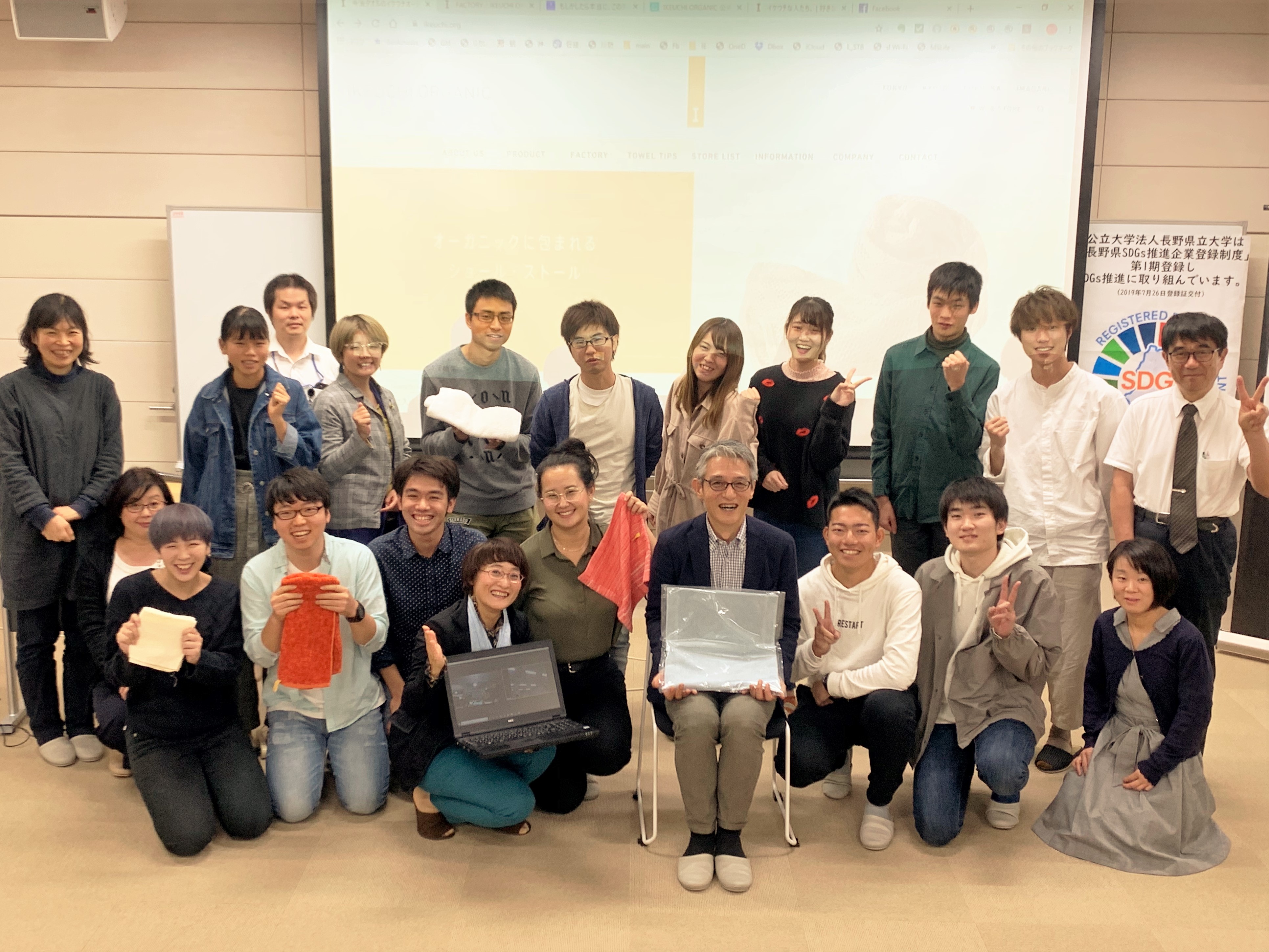 Date

Title

Guest

October 16
IKEUCHI ORGANIC's Continuous Sustainability Efforts
~A Path to a Circular Economy, 20 Years after "Organic Style"~
Tetsuya Abe
President, IKEUCHI ORGANIC Co., Ltd.

* Events from February to March 2020 were cancelled to prevent the spread of the novel coronavirus (COVID-19).